Contact: Steven Crane | RE/MAX Commercial | Excalibur Realty | +(888) 562-5991
Coggins Professional Building is a 15,644 rentable square foot, general office building located in Sun City, Arizona. Constructed in 1983, this attractive stucco building can be divided into six suites or used by a single tenant/owner. The second floor has 2,559 square feet including one restroom and is accessible by both an elevator and stairwell. The first floor has 21 private offices, several open bays, two large conference rooms, eight restrooms and plenty of storage. The property is conveniently located just south of the US 60 (Grand Avenue) on the northeast corner of 105th Avenue and Coggins Drive. There is plenty of parking on-site, including eight covered spaces.
Property Type: Multi Tenant Office
Available: For Sale, For Lease
Address:
10448 W Coggins Dr
Sun City, AZ, 85351, USA
Additional URLs
http://thebrokerlist.com/have/coggins-professional-building-2201
Steven Crane
RE/MAX Commercial | Excalibur Realty
+(888) 562-5991
More...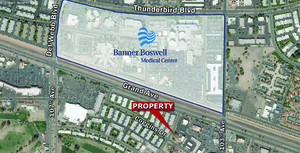 theBrokerList. opt-in profile, is a "MUST" for CRE (Commercial Real Estate) Professionals.