Contact: Steven Crane | RE/MAX Commercial | Excalibur Realty | +(888) 562-5991
Miller Professional Building is a 2550 rentable square foot, medical/general office suite located in the heart of medical corridor of Downtown Scottsdale. Near the Scottsdale Healthcare facility. This attractive building has several medical tenants and professional tenants. This suite 107 has at least 3 exam rooms, office space reception, lobby and more. There is a 1/2 bath inside the suite, and public restrooms adjacent to the suite. Conveniently located on the corner of the building, signage can help maximize your exposure to the public.
Property Type: Medical/Healthcare
Available: For Sale, For Lease
Address:
3337 N Miller Rd, STE 107
Scottsdale, AZ, 85251, USA
Additional URLs
http://thebrokerlist.com/have/miller-professional-building-suite-107-2222
Steven Crane
RE/MAX Commercial | Excalibur Realty
+(888) 562-5991
More...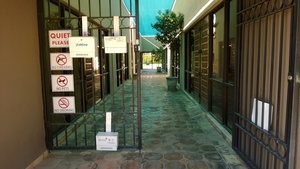 theBrokerList. opt-in profile, is a "MUST" for CRE (Commercial Real Estate) Professionals.